VH1 Supersonic 2015 wraps up on a high note!
The unforgettable VH1 Supersonic has just set a new benchmark for festival experiences in India. The brave and bold concept ran from 27th to 30th December on the beach in Goa, India and so more than 100,000 music lovers attend over four days, with people coming from all over the world and places like Holland, Amsterdam, Britain, New Zealand and Australia. Conceptualised and organised by Live Viacom 18, the spectacular Vh1 Supersonic 2015 took dance music fans on a real trip and offered them incredible headline sets and world exclusive performances across three brilliant stages.
Axwell  –  "Really excited to see such a diverse line up at Vh1 Supersonic." 
Pulse Radio –  ' Vh1 Supersonic continues to grow in to one of the world best festival"
In The Mix –  'If  you like partying on the beach  with the best electronic artist around you should probably book yourself a trip to Goa, India"
DAY 1
The festival got off to a brilliant start right from the off. Impressive stage designs and a beautiful natural setting mean that even before the music gets underway Supersonic is well and truly a magical experience. As thousands of fans descend on Candolim, the Laboratoire Supersonique stage came alive with the unique stylings of Lasker. Soon, the iconic Iron Heart was pumping with DJ SA's set and Spectrum was bringing in the techno beats with Kohra. As the sun started moving lower on the horizon, the music started to thrum louder and harder, as artists such as Foreign Beggars, Ida Engberg and Tarqueeb injected a whole new dose of energy into the crowd. By sun down, Candolim was alive with thousands of heartbeats thumping in sync with the sound of music and sets from Disclosure, Adam Beyter and Mala Pokes all kept the vibe alive well into the night.
DAY 2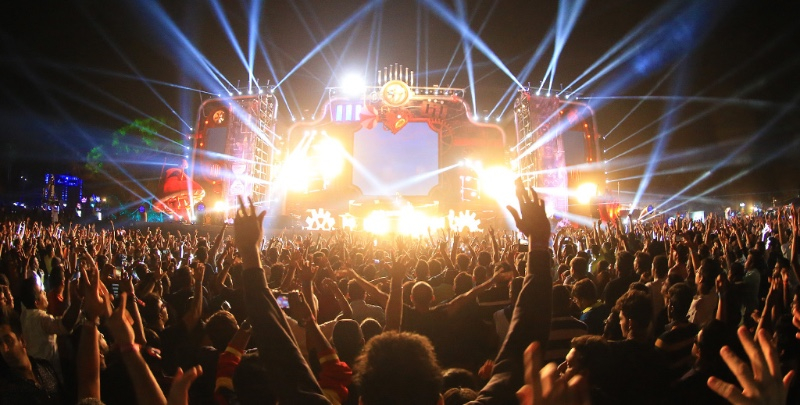 Day two saw crowds fill the sands of Candolim once more. With the theme You Are Supersonic the day's activities really put music lovers right at the centre of the experience. There were memorable sets form the likes of BLOT!, Zedd, Don Diablo, Teddy Killers, Joris Vorrn, Nic Fanciuli, Dirtyphonics and others there were also some fine mixed media performances by Jaipur based artist Sound Avatar. Armies of fans cheered them on with flags, neon lights, posters and flower crowns and as the day ruled on and the beats kept on coming, the crowd took millions of selfies and the temperatures really rocketed.
Excited with a great turn out for the second day of the event, Jaideep Singh, Senior EVP and Business head- LIVE Viaocm18 said, "We at Live Viacom18 have relentlessly worked towards turning Vh1 Supersonic into an unforgettable experience for each and every one attending this event – be it the music fans or the artists. And the vibe of the festival is testimony to the excitement that's the driving force behind this festival. Music fans have been going ga-ga over our Iron Heart stage and have been raving about the festival on social media networks. It's definitely a proud moment for us to see fans immersing themselves into the entire experience wholeheartedly and actually moving from stage to stage to catch their favourite performances. It's only day two and we're working with a packed house here…the party's only going to get bigger and better over the next two days of the festival!"
DAY 3
The third day brought with it many more magical experiences, great sights and super sounds. There were sets from musical geniuses Tuhin Mehta, Joran Van Pol, Norman Doray, Deorro, Culture Shock, Luigi Madonna and many more taking to the three stages. Each one offered a different experience, and the scorching sun was never far away, making sure every amazing stage, already resplendent with mad lights, lasers and pyro technics, looked even more beautiful. Such was the allure of the event that even stars from the world of glamour couldn't resist it and made a beeline for the event. Spotted partying their hearts out at the event were the superstar of the India Cricket Team – Rohit Sharma, popular actress Kritika Kamra and MTV's hottest young star Parth Samthaan.
DAY 4
The fourth and final day of Supersonic saw the last of the more than 100 artists playing across all three stages. By now thousands of revellers were well in their groove and were treated to a spectacular conclusion as world renowned masters of dance music – Axwell, Grum and Netsky + MC Script struck the final beats for the festival on their respective stages – the iconic steampunk megalith 'Iron Heart', the bass experience 'Laboratoire Supersonique' and the techno kingdom 'Spectrum'. The evening was alive with pulsating rhythms and exhilarating beats and the simultaneous movement of thousands of bodies gyrating in unison. It was time to let go all of all worries and cares in the world and simply surrendering to the vibe. A magical end to a magical third season – Vh1 Supersonic 2015 will definitely go down in the collective memory of all the party goers as the best dance music experience ever.
For more content and pictures please visit the VH1 Supersonic socials
 //Albums:
Day 1: https://www.facebook.com/media/set/?set=a.967078013384420.1073741905.557785804313645&type=3
Day 2: https://www.facebook.com/media/set/?set=a.967641913328030.1073741910.557785804313645&type=3
Day 3: https://www.facebook.com/media/set/?set=a.968269883265233.1073741914.557785804313645&type=3
Day 4: https://www.facebook.com/media/set/?set=a.971125029646385.1073741917.557785804313645&type=3
http://viralbpm.com/wp-content/uploads/2016/01/FINISH.jpg
506
800
Hektor Apostolopoulos
http://viralbpm.com/wp-content/uploads/2015/10/cropped-Viralbpm-Official-Logo-300x300.png
Hektor Apostolopoulos
2016-01-18 00:11:16
2016-01-18 00:11:16
VH1 Supersonic 2015 wraps up on a high note!